SARS-CoV-2 Real-Time PCR Testkit from BGI
The BGI reverse transcriptase real-time Fluorescent PCR kit for detecting SARS-CoV-2 enables the detection of the virus in just 3 hours. The kit is a qualitative in vitro nucleic acid amplification assay used to detect SARS-CoV-2 using reverse transcription PCR from throat swab and Bronchoalveolar Lavage Fluid(BALF)samples. The test primers are derived from the first SARS-CoV-2 RNA sequences (orf1ab) identified in Wuhan.  The test has a high specificity and displays no cross reaction with any of the following strains: OC43, 229E, HKU1, NL63 (hcov-oc43, hcov-229e, HCoVHKU1, hcov-nl63) or other virus types. With a detection limit of 100 copies /mL it is also highly sensitive.
Whole-Process Quality Control: An internal (endogenous) control is included to monitor the complete process from sample taking, nucleic acid extraction, reverse transcription and to amplification for each individual sample.
Whole-Process Quality Control: An internal control was set to monitor the laboratory procedures including nucleic acid extraction, Revert transcription and amplification in each reaction.
RNA Extraction and RT-PCR Systems
Works with all virus RNA extraction kits and is validated for QIAamp Viral RNA Mini Kit (52904).
Real-Time PCR: Compatible with all FAM-VIC/HEX systems and validated for ABI 7500 and SLAN-96P.
China NMPA Approved on January 26
CE Marked on February 24
US FDA Approved on March 26
Japan PMDA Approved on March 27
Australia TGA Approved on April 11
The kits contain tests for 50 patients (50 reactions per kit) and is available for laboratories and clinics. Testkits can be stored for 6 months at -18 °C.
Do you need more information about the test or do you intend to order the test kit?
In case you need assistance to purchase other components of the test process, like swabs or virus RNA extraction kits we can help you.
We will soon launch a reliable SARS-CoV-2 antibody test to simultaneously detect IgG and IgA.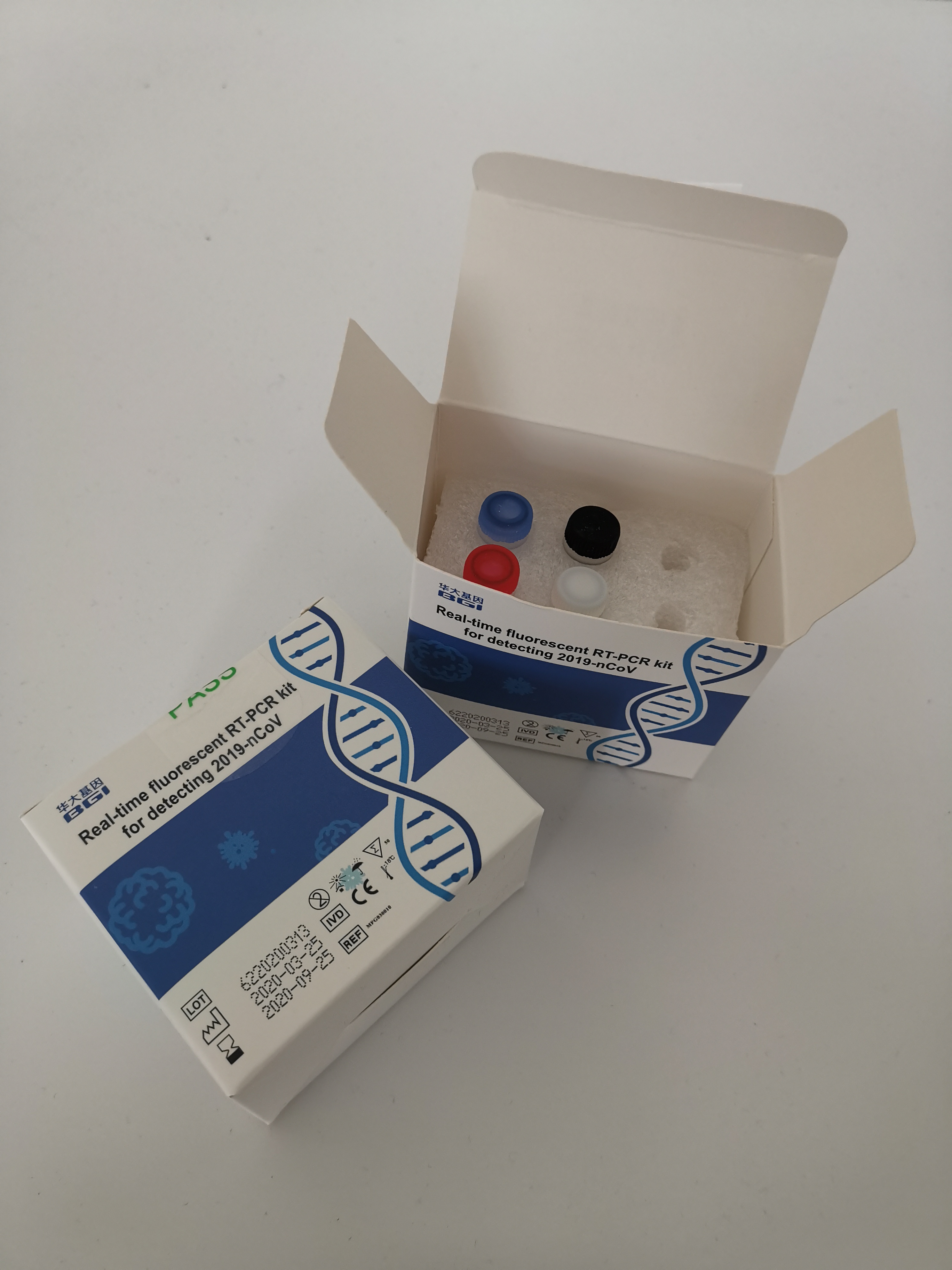 Manufacturer: BGI Europe A/S
Manufacturing site: BGI Biotechnology (Wuhan) Co., Ltd.
Distributor: Eluthia GmbH
Press Release in Germany: Coronavirus Schnelltest des chinesischen Marktführers BGI ab sofort über Eluthia in Deutschland erhältlich
The Chinese company BGI is one of the world's leading life science and genomics organizations. Immediately after the occurrence of cases of unexplained pneumonia in Wuhan, BGI sequenced the genome of the new 2019-nCoV virus and successfully developed a Real-Time (RT) Fluorescent PCR (polymerase chain reaction) kit for detecting 2019-nCoV, which can provide results in a few hours.
In 2003, BGI was the first laboratory that identified the SARS virus (which is corona strain as well) and within hours BGI developed a rapid test. In 2011, BGI was able to identify the cause of EHEC and to develop a rapid test.